Historic homestead to elegant estate
Stonefields embodies the rich history and lush landscapes of the Ottawa Valley. For 200 years, families have lived and loved in its log buildings, stone home and windswept fields. We've kept with this tradition, creating an intimate space where love is celebrated among family and friends.
Read our story below and become part of it.
The Hawkins, one of the founding families of the Ottawa Valley, arrive in what's now known as Beckwith. 
They build a one-room log cabin to live in. This would later be named the Hawkins Settler's Cabin in honour of the estate's legendary homesteaders. 
The Hawkins also put up barns for their animals and farming equipment, which are now rustic features of the Stonefields Estate.
A new home for the Hawkins
The family builds a large stone farmhouse – the new heart of their 120-acre farm. The homestead changes hands only a few times over the next century. 
More than 150 years later, the Stonefields Farmhouse provides an elegant backdrop for outdoor wedding ceremonies and accommodates up to 8 guests overnight.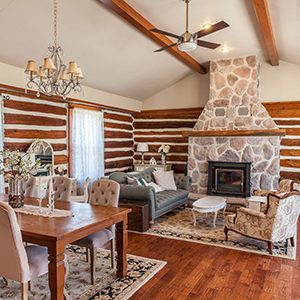 The farm grows with its family
Phyllis and Brian Byrne purchase the property with an old-fashioned handshake. They spend the next 35 years there – raising their children, extending the farmhouse and growing beautiful gardens. 
Their home was full of love and laughter, with many family gatherings and card games in the pub with friends.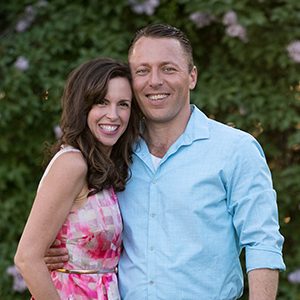 Stonefields Estate is born
The farm is bought by Stephanie and Steve Malenfant and renamed Stonefields Estate.
An old friend of the Byrnes, Stephanie had been in love with the property for years. When she and Steve decided to open their own outdoor wedding venue, they knew the farm would be a perfect location. 
With help from their community, Stephanie and Steve begin transforming the farm into one of Canada's finest wedding venues.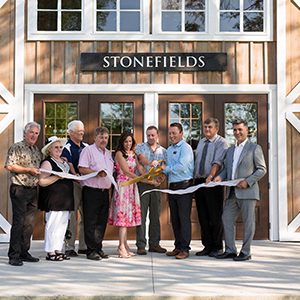 Restorations begin on the Loft
Stephanie and Steve purchase a 110-year-old barn from a neighbouring farm. Their vision is to transform it into a French country-inspired barn for wedding receptions.
It takes almost a year to rebuild the barn onsite, add vintage windows and install modern conveniences. The result is a classic event space that effortlessly combines old with new. 
Midway through the restorations, Steve proposes to Stephanie on the estate grounds. They hold their wedding in the Loft shortly after it's completed in 2016.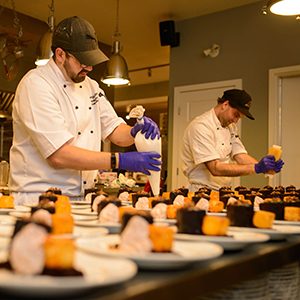 Stonefields gets creative in the kitchen
To offer wedding guests a truly memorable dining experience, Stephanie and Steve set to work on building a state-of-the-art kitchen and culinary team.
The Stonefields' culinary team is renowned for sourcing the best ingredients and creating an unforgettable dining experience.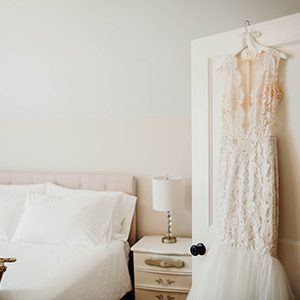 The Farmhouse welcomes wedding guests
Having housed multiple generations since 1857, the farmhouse opens its doors to family and friends once more. Now known as the Stonefields Farmhouse, this charming stone home offers overnight accommodation for couples and six of their guests.
The Ceremony House opens its doors
Stephanie and Steve build an elegant space for indoor wedding ceremonies. They adorn it in chic décor and crystal chandeliers to offer a striking backdrop for couples. With its whitewashed walls and expansive views, the Ceremony House adds to the estate's countryside charm.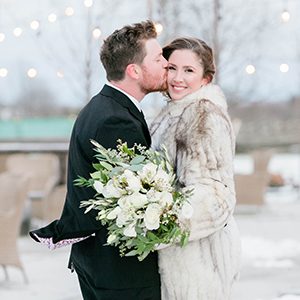 What started as a humble settlers' farm is now a stunning estate where countless love stories come together. Every couple who gets married here becomes part of our story. We'd be honoured to become part of yours.
Learn more about Stonefields weddings
We'd love to discuss your ideas, answer your questions or offer you a tour.